What is a landing page?
The simplest way to describe a "landing page" is any page of your website that someone arrives "lands" on. In the marketing realm, a landing page is a standalone web page that is distinct from your main website. It is designed for a focused objective.
Types of landing pages There are two basic types of landing pages
Click through

lead generation.
Click through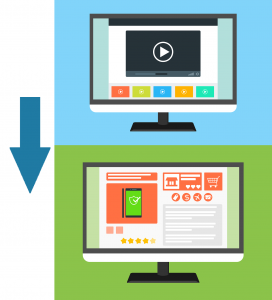 Click through landing pages are designed to try and get users to click through to another page. This type of landing page is usually used within ecommerce web sites. These pages can be used to describe a product in more detail. These pages are meant to warm up the users and turn them into a customer. This can be great for getting more users to sign up / register to your site. Or convince someone that that a product is worth purchasing.
Lead Generation
Lead generation landing pages are designed to gather user data. This can be things like names, phone numbers and email addresses. The whole design of these pages is to collect data. This gives marketers information to connect with potential customers and as they have given you contact information the lead will be warmer than a cold caller. These pages usually give something to the user. To get the offer / free product users exchange their information.
These can be things like (but not limited to!):
Ebooks

Webinars

Consultation

Coupons / vouchers

Competition entry
Whats next?
Now that you hopefully have an understanding of what landing pages are and how they work what do you do next? Hopefully this is enough information for you to start planning your own landing pages.
If you still need help and want to discuss how you can use them to get more business then get in contact!